The book is a must for anyone who loves vintage microphones, it is bound, hard cover and printed on thick, high quality paper. Click on the picture or here to go to his website and order the book !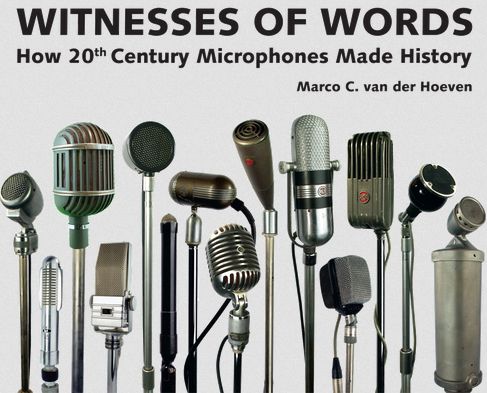 Microphone:
Description:

Philips el3750. *
A dynamic(?) microphone from Philips.
I have no idea what the switch on the backside is doing. If you look inside you see a strange construction attached to the switch but what does it do ?
Philips el3750. *
Another one, the backside is slightly different

Philips el3753. * *
Crystal (?) table microphone.

Philips el3757. * *
A dynamic stereo microphone from Philips. A good microphone and not very rare in the Netherlands (I have three of these).

Philips el3781 &ampl; el3791. * *
Two dynamic (?) microphones, the only difference is that the 3781 has a ligth-gray housing, the 3791 has a dark-gray. Oh, another small difference is that the 3871 is completely closed on the back side, while the 3791 has some vertical slits.
Philips el3782. * *
A dynamic(?) microphone from Philips. Nice design ! Not very rare, again I have three these.

Philips el3799. * *
Another dynamic stereo microphone. Interesting 'rocket' design.

Philips el3994. * * *
Probably a dynamic microphone, with talk button and a small light inside !


Philips el6011. * *



Philips el6020. * * *
What a mess inside !
These Philips mikes (also the el6030 and el6040) where available in the US under the name of DUOTONE.
"Broadcasting, recording, pa-system microphone."
"... with nearly unlimited life span that is shock-proof and equally sensitive in all directions for the lower frequencies. Equipped with plastic diaphragm insensitive to humidity, sea air, temperatures to 140 F and to most industrial chemicals."
"... an indestructible casing of die cast aluminium with hammeroid lacquer."

1950's list price: $125.00.
more info
The head of the microphone is slightly damaged, but at least I have restored the cloth.
The bottom-right one is another model, also a little bit damaged but generally in better condition.


Philips el6021/50. * * *
Probably not as old as the 6020-6030-6040 series, this one looks like it is from the earlie sixties.


Philips el6021. * * *
A grey hammertone version, with the original box.


Philips el6030. * * *
Equiped with a very strong magnet. Great design ! Back in those days Philips did know what a beatiful design meant. A "Hyper-cardiod Moving Coil microphone [...] provided with:
A plastic lining which protects the interior against rain and dust.
A corrosion resistant aluminium diaphragm.
A plug for adjusting the impedance to 10000, 500 or 50 ohms.
..."

1950's list price: $150.00.
more info

Philips el6030. * * *
I had the opportunity to buy another one, could not let this pass.
Yes, that is Anastacia singing into an el-6030 !
Sarah Vaughan singing into Philips el6030.
This is Sarah Vaughan in 1958 at the Concertgebouw in Amsterdam. This concert has just been released on cd.
See muziekcentrumnederland
Philips el6040. * * * *
specs
Super "pencil" mike, omnidirectional, moving coil
Broadcast quality mike, especially designed for unobtrusiveness. This rugged, light microphone is truly omnidirectional, yet has a tremendous range of response - 40 to 20000 c/s. Excellent for tape recording, outdoor work - every sound installation that must meet the highest standard of sound quality.
[...] model is ideal for television, reflecting no light and taking up minimum space.
1950's list price: $125.00.
Impedance : 50,500 or 25000 ohms
Sensitivity: -55db at 25000 ohms.
Philips el9585. * * * *
A dynamic omni-directional microphone from the 1950s. The background shows two radio reporters in 1959, the microphone on the right is a Philips 4210 carbon microphone (that was already antique when this picture was taken).
1950's list price: f 150.00.

Philips el6100. * *
Looks like a crystal mike.
Siera * * * *
Identical to the el6100, except for the logo. Siera was a Belgium radio manufacturer that later became a daughter company of Philips.
Philips el3925/00. * *
An older (?) version of the el6100, probably from the mid fifties.


Philips 9549. * * *
Electro dynamical mic, probably from the forties.
This model (but with a switch and stand) was also given the model number 6010!.
Freq. range : 70 - 10KHz
Output level: -52db to -70db.
Imp. 200-10kOhm
1950's list price: f 125.00.
Big Bill Broonzy singing into a Philips 9549 (from a concert in the Netherlands 1952, from the double cd box MRCD 275 (Munich records)).


Philips 9561. * * * *
This microphone was already mentioned in one of the Philips technical journals from 1940. But I have to admit that this heavy microphone looks much more modern. Again, this mic is switchable from 200-500-10K ohms.
I got this excellent reproduction emblem. Now it is finally complete again!
Philips 9564. * * * *
Probably from the forties (it was already mentioned in 1949).
Philips el6031. * *
This one came from the late 1950s or early 1960s. A later model (also 6031) had a rounded front with a chrome ring.
Old man Castro seems to have liked this microphone ! 1962's list price: f 190.00.

Philips el6031. * *
Here is the later model (from the 1960's or 1970's). And a young Mick Jagger using this model in 1964.

Philips 9529. * * * *
The 'Acorn' model. This crystal microphone is very modern looking, but it is in fact older than most other Philips models on this page. I think it is from around 1939.
Output level: 0.45 mV/µ Bar.
Imp.: 1 MOhm.
Weight: 120 gr.

Philips pm9640. * * * * *
Not a spectacular or expensive model, but seldom seen. This would probably make a nice harmonica microphone, just the right size!

Radiola 1124. (Philips) * * * *
Radiola was/is a french sub brand of Philips. This is no lightweight crystal mic ! It has a metal shell with a heavy dynamic element, as one can expect from Philips. Probably from the forties. Of course there is a corresponding Philips model, identical except for the tag. If you know the philips model no. I'd like to hear from you !
Riem. * * * * *
RIEM (Rappresentanze Industrie Elettrotecniche Milanesi) made some beautiful microphones in the 1950's. Or maybe they had them made, because this model could have been made by Philips. Or, at least, it was heavily inspired by the Philips el6040. There are some subtle differences however, e.g. the Riem is 1 cm shorter !
This is my own totally un-scientific rating of the rarity of the different microphones. It is based on (a) what is offered on vending sites, (b) what is in other collections, (c) how much info can be found with Google and other search engines. A model gets only the top rating if I have never seen or heard of another one of this model in existence.
Of course, it does not necessarily mean that the rarest items are much more expensive than the more common models!